February 18th, 2012, 12:01 Posted By: PSPReview




Newly released for the Dingoo Family of Consoles. comes this news from Dingoonity, heres the release news:

This utility does all the conversions you could ever need when putting ROMS to your dingoo.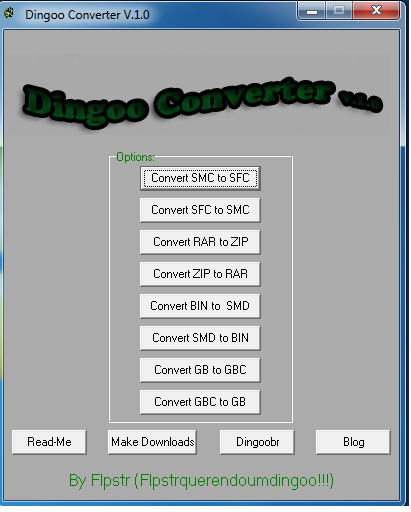 Quote


Dingoo Converter V.1.0
-------------------------------------------
instructions:
Put the files to be converted in the program directory.
Click Convert (and the option you want).
If all went well received Success!
-------------------------------------------
about:
Dingoo Converter is specially designed to convert all at once the
archives. SMC to the new format supported DingooSnes, but also with a bonus
converts other formats!
Dingoo Converter is a conversion (renaming) files. SMC. CFS and
vice versa, and convert. RAR for. ZIP and vice versa. BIN to. MDS and
vice versa, and Gc for GBC and vice versa.
By Flpstr (flpstrquerendoumdingoo!!)




Discuss it here: http://boards.dingoonity.org/dingoo-...goo-converter!

Dingoo Converter.rar
Author/Porter: Flpstr (flpstrquerendoumdingoo!!!)
Download: http://dl.openhandhelds.org/cgi-bin/...0,1,0,0,15,566

For more information and downloads, click here!

There are 0 comments - Join In and Discuss Here